Blue Rodeo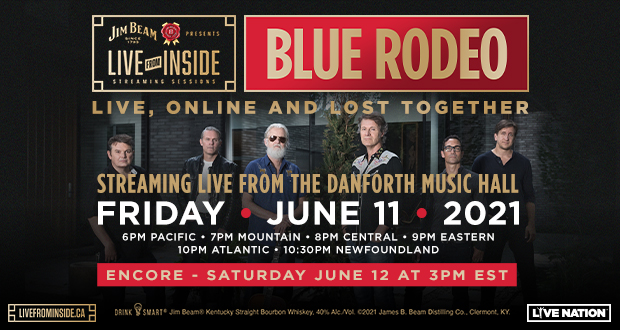 A Message From Blue Rodeo: 
Hey folks. We are moving our Blue Rodeo livestream show to a new day – Friday June 11 at 9:00pm Eastern. We're so sorry for the change of date – again! – but we are really committed to presenting a LIVE show for you and need to move our date so we can do so safely under the Ontario guidelines. Hang on to your tickets, as they will be honoured for the new date.
Also! Join us 30 minutes before we hit the stage for a special pre-show event where we all share some of our favourite tour stories
We also have an Encore Presentation on Saturday June 12 at 3:00pm Eastern for those of you who aren't able to join us for the live show on Friday night.
We have missed performing for you and seeing you at shows and are very excited to be able to visit you in your living rooms and play some music. We look forward to seeing you LIVE on June 11! tour.bluerodeo.com
For tickets to the June 11th show click here! 
For tickets to the June 12th encore presentation click here! 
Ticket holders can reach out to the team at livefrominside@livenation.com with any questions or check out the FAQ here!
---
Jim Beam Bourbon Presents "Live From Inside" returns to Danforth Music Hall with a performance from Canada's beloved Blue Rodeo.  This special evening will include a pre-show event with each of the band members sharing their favourite tour stories as part of a "Blue Road" series.  The band is also delighted to partner with venues across the country and a portion of ticket sales will go directly to supporting these venues coast to coast.
"Finally we get to play!! We are very excited to be able to visit you in your living rooms and play some music.  We have all been missing this and although it's not in person, it is the next best thing. See you soon!"  – Jim Cuddy
In the thirty years since forming, Blue Rodeo has sold over 4 million albums, won countless Juno awards, been inducted into the Canadian Music Hall of Fame, received a star on Canada's Walk of Fame, been named to the Order of Canada and have been honoured with the Governor General's Performing Arts Award.
Blue Rodeo is: Jim Cuddy (vocals/guitar), Greg Keelor (vocals/guitar), Bazil Donovan (bass), Glenn Milchem (drums), Colin Cripps (guitar) and Mike Boguski (keyboards).  Also joining the band for the performance will be multi-instrumentalist, Jim Bowskill.
For more information on Blue Rodeo, please visit: www.bluerodeo.com
Jim Beam Bourbon Presents "Live from Inside" showcases incredible live performances broadcast from favourite venues across Canada. Viewers enjoy multi-camera performances with crisp visuals and concert quality audio. Fans are able to purchase tickets, register for access, and then stream performances in high definition from the comfort of their homes or on the go.