Cirque du Soleil – Crystal (October 3-7)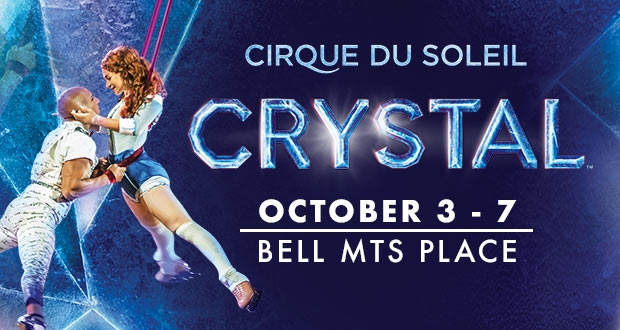 Cirque du Soleil is coming to Winnipeg with its 42nd creation and first ever on ice experience. Cirque du Soleil's CRYSTAL, explores the artistic limits of ice for the first time in the company's 34-year history. This unique production pushes boundaries of performance by combining stunning skating and acrobatic feats that defy the imagination. CRYSTAL will be presented at Canada Life Centre from Wednesday, October 3 to Sunday, October 7, 2018 for 7 performances only.

In CRYSTAL, gymnasts and skaters perform acrobatics on the ice and in the air, seamlessly combining multiple disciplines for a world class audience experience. Synchronized skating, freestyles figures, and extreme skating are featured alongside traditional circus disciplines such as swinging trapeze, aerial traps and hand to hand. The result is an adrenaline-packed show for the whole family that pushes the boundaries and surpasses all expectations!

Show times
October 3 at 7:30 p.m.
October 4 at 7:30 p.m.
October 5 at 7:30 p.m. 
October 6 at 4 p.m.
October 6 at 7:30 p.m. 
October 7 at 1:30 p.m.
October 7 at 5 p.m.