Jets Gear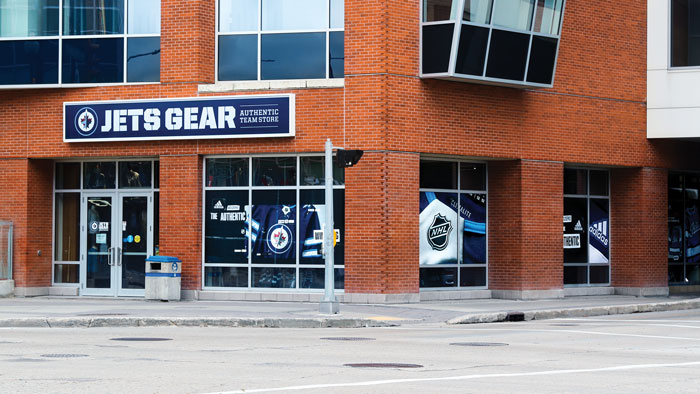 For all the latest, authentic Winnipeg Jets and Manitoba Moose merchandise, check out TrueNorthShop.com or visit one of Jets Gear's five convenient Winnipeg locations.  See below for store hours.
As we welcome you back into our stores your safety is of the utmost importance to us and we will have the following policies and guidelines in place for a safe and enjoyable shopping experience:
Please observe standard physical distancing of 2 metres (6 feet) from others when ever possible.
There is a sanitizing station as you enter and exit each store as well as at the till.
The use of personal protective masks for the safety of customers and staff is mandatory.
Each checkout has an acrylic safety shield, and counters are cleaned after each transaction.
JETS GEAR – CANADA LIFE CENTRE
Monday to Friday: 10am – 5pm
Saturday & Sunday: CLOSED*
Phone: 204-926-5616
Email: jetsgear@winnipegjets.com
*Store will open daytime on weekends for Jets home games only.
**Store will close 30 mins prior to gates opening for all Jets and Moose home games.

JETS GEAR – BELL MTS ICEPLEX (Pro Shop)
Monday to Friday: 3pm – 9pm
Saturday & Sunday: 9am – 9pm
*Hours as of Jan. 4th
Phone: 204-926-5879
*Hours during events will vary based on schedule. Please call the store or click to email for updated hours.
JETS GEAR – ST. VITAL CENTRE
Monday to Friday: 10am – 8pm
Saturday: 10am – 6pm
Sunday: 11am – 6pm
*Hours as of Jan. 4th
Phone: 204-254-8776
JETS GEAR – POLO PARK
Monday to Wednesday: 10am – 8pm
Thursday & Friday: 10am – 9pm
Saturday: 10am – 7pm
Sunday: 10am – 6pm
*Hours as of Jan.4th
Phone: 204-783-JETS (5387)
JETS GEAR – KILDONAN PLACE
Monday to Friday: 10am – 8pm
Saturday: 10am – 6pm
Sunday: 11am – 6pm
*Hours as of Jan. 4th
Phone: 204-663-JETS (5387)