James Taylor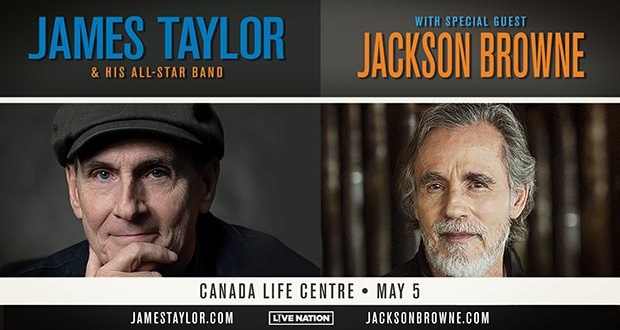 For the first time ever, James Taylor & His All-Star Band, with special guest Jackson Browne, will perform together across Canada. Jackson will replace the previously announced Bonnie Raitt who unfortunately is no longer available to join these rescheduled concert dates due to her prior touring commitments. Previously purchased tickets will be honored for all of the rescheduled dates and fans are encouraged to hold onto their tickets.

"Last year was a time of great disruption and general upheaval for all of us. My plans for a coast-to-coast concert tour of Canada with my dear friend, Bonnie Raitt, were seriously sidetracked. Our rescheduled dates for this September were likewise denied. But we've been determined to follow through; to make the tour happen and, come hell or high water, we're setting our sights on this coming Spring of '22. The one wrinkle is that Bonnie will be unable to join us for the newly rescheduled dates. Happily, Jackson Browne and I have been touring together this Summer and Fall and he has agreed to come to Canada with me." James Taylor

About James Taylor
As a recording and touring artist, James Taylor has touched people with his warm baritone voice and distinctive style of guitar-playing for more than 40 years, while setting a precedent to which countless young musicians have aspired. Over the course of his celebrated songwriting and performing career, Taylor has sold more than 100 million albums, earning gold, platinum, and multi-platinum awards for classics ranging from Sweet Baby James in 1970 to October Road in 2002. In addition to multiple Grammy awards, Taylor has been inducted into both the Rock and Roll Hall of Fame and the prestigious Songwriters Hall of Fame.

About Jackson Browne
Hailed as one the Greatest Songwriters of All Time by Rolling Stone, Jackson Browne has written and performed some of the most literate and moving songs in popular music. A defining Americana artist, who's songwriting is often charged with honesty, emotion and personal politics, Browne is known for his hits, like "Running On Empty," "The Pretender," "Doctor My Eyes," and "Take It Easy," as well as deeply personal ballads such as "These Days" and "In the Shape of a Heart." He was inducted into the Rock & Roll Hall of Fame in 2004 and the Songwriters Hall of Fame in 2007.

Entry may be subject to any COVID-19-related rules and restrictions in place at the time of the event, including but not limited to, proof of fully vaccinated status being required for entry. For more information click here.