Jeff Dunham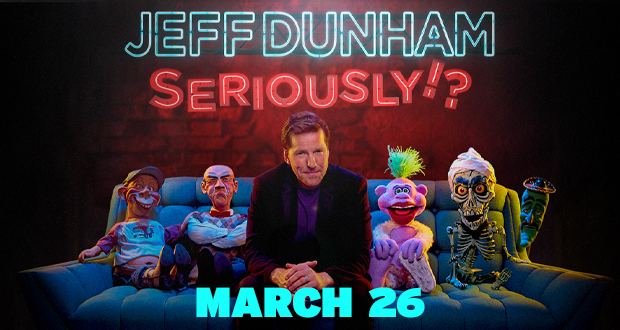 Proof of Vaccination: Not Required
For more than thirteen years, Jeff Dunham and his delightfully irreverent cohorts, Peanut, Walter, José Jalapeño, Bubba J. and Achmed the Dead Terrorist, have filled arenas across the U.S. and the world with their multiple blockbuster tours. And now, after taking the year off that nobody wanted, the comedian/ventriloquist and the little guys in his suitcase are restarting their much-claimed international tour, "JEFF DUNHAM: SERIOUSLY!?."  They'll be playing multiple rescheduled dates crisscrossing North America and Canada, then will soon be adding approximately 50 more cites to include more of North America, plus Europe and the U.K.  In addition to his usual cast of irreverent accomplices, "SERIOUSLY!?" includes the newest member of the troupe, "Url", the grandson of Walter who lives online in his parent's basement and knows not much more than what's on his smart phone.
Additionally, during the pandemic Dunham released "Jeff Dunham's Completely Unrehearsed Last Minute Pandemic Holiday Special," his 1st of three new standup specials under a new deal with Viacom and Comedy Central, and this makes the artist's tenth in his impressive string of record-breaking stand up television events.  The airing was Comedy Central's most watched special in five years, which was also a Dunham special. And further it was highest rated standup special in 18-49 since his 2014 "All Over the Map" special.  In other words, Dunham bested himself three times running.
A Texas native, after graduating from Baylor University, Dunham moved to Los Angeles and soon became a sensation on the national comedy club circuit. He later conquered the comedy world by becoming a multi-platinum selling DVD artist and achieving record-breaking ratings on both cable and network TV.