Moira dela Torre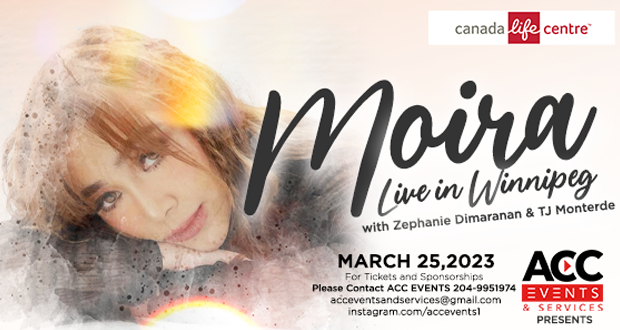 The "Tagpuan" hitmaker Moira dela Torre, who has 4.1 million Instagram followers and 4 million monthly Spotify listeners, is set to conquer Winnipeg on March 25!

Dela Torre just completed her duties as one of the judges for "Idol Philippines" season 2, which ended on September 18.  She is also the author of the popular song "Kumpas," which serves as the theme song for the ABS-CBN television series "2 Good 2 Be True."

TJ Monterde

Titus John Monterde (born December 30, 1989), magnanimously known as "'TJ Monterde"', is a Filipino singer with 2.8M followers on Facebook and 1.3M monthly listeners on Spotify . He rose to prominence into the music scene in 2011 through his viral YouTube videos. He started sharing his original compositions and reached a wide audience receiving rave reviews in the world wide web. "'Ikaw at Ako"' became his signature song and officially debuted as the song for YouTube's viral film called "'My Super Fan Girl"'

Zephanie Dimaranan

A Young Filipino singer and the Grand winner of the first PHILIPPINE IDOL . She is dubbed as "This Generation's Pop Princess" in the country and in any other media outlets. She hailed as the "New Female Recording Artist of the Year" at the 12th PMPC Star Awards for Music and Singer of the Year in the first KUMU Livestreaming Awards.

As of January 2022, she has surpassed 10 million all time streams on Spotify and herself titled album "Zephanie" immediately became No. 1 on ITunes Philippines. After two and a half years in ABS-CBN she is now at GMA Network and currently a member of All- Out Sundays Queensdom and Super Champions.