The Offspring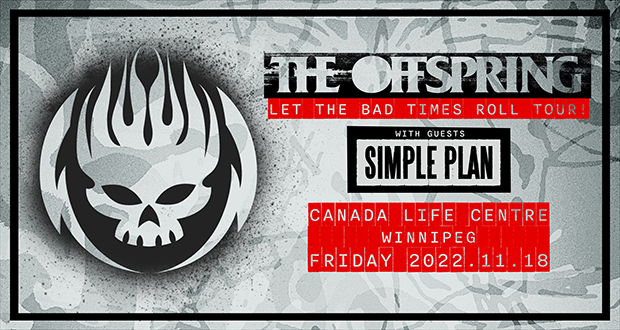 On the heels of sold out European Summer Festivals and this week's appearance at Rock in Rio, the Offspring announced today that their Let The Bad Times Roll Tour is coming to Canada in late 2022, in support of their album of the same name released earlier this year. The nationwide tour, featuring support from Canadian rockers Simple Plan, will kick off in Halifax and hit 18 cities coast to coast.

Frequently regarded as one of the best punk rock bands of all time, The Offspring have garnered a reputation for their unmistakable sound and social comment. The multi-platinum band first achieved worldwide success in the 90's with the release of their album Smash, which sold over 11 million copies. Following Smash, they continued to release hit after hit, popularizing punk rock at a mainstream level.

Joining the band on tour are Montreal's own Simple Plan, who have seen no shortage of success throughout their career.  The multi-platinum, Montreal-based band boasts worldwide sales topping 10 million, along with accolades including a 2005 Teen Choice Award, 2006 JUNO Fan Choice Award, and 2012 Allan Waters Humanitarian Award.