Hockey Can't Stop Tour – Ukraine vs Bisons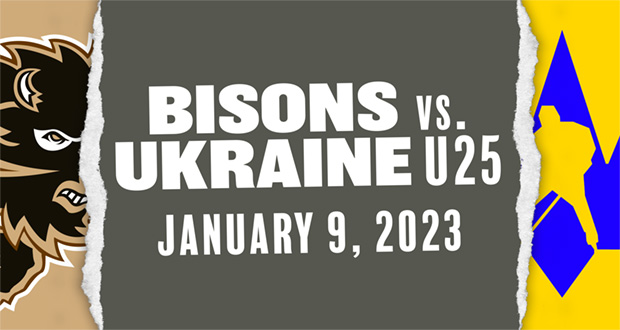 Four Canada West teams will welcome the Ukrainian National Team in late December and early January to give them the opportunity to play and prepare for the upcoming Winter University Games while raising money for refugees and Ukrainian communities torn apart by the war.

The Universities of Alberta, Saskatchewan, Manitoba and Calgary will each play a game against the team, with all profits from ticket sales going toward humanitarian and hockey causes in Ukraine and Ukrainian grassroots organizations in Canada.

Canada West and its schools want to do their part to ensure the game of hockey and all it provides to communities doesn't stop despite Russia's invasion of Ukraine. The "Hockey Can't Stop Tour" allows the Ukrainian Team reprieve and a place to practice, while raising money to keep hockey alive in Ukraine.

All ticket sale profits will be sent to the Canada/Ukraine Foundation, which provides assistance to humanitarian groups in Ukraine and Canada. The Foundation will disperse the majority of funds to Save Ukrainian Hockey Dream, a charitable foundation operated by the Ice Hockey Federation of Ukraine with the assistance of the IIHF.

The foundation's goal is to support players at home and abroad, continue to train youth and professional teams, and restore Ukrainian arenas damaged by the war.

Canada West would like to extend a warm thank you to all of the sponsors and partners who are making this tour possible: Tim Hortons, Sobey's, True North Sports and Entertainment, Heritage Frozen Foods Ltd. (CHEEMO), Ticketmaster and Visaic Inc.

BACKGROUND

When the war hit in Ukraine, some professional hockey players traded their sticks for guns as they put their lives on the line to save their country. Various others took up volunteer positions. Many young hockey players abandoned their NHL dreams and fled with their mothers.

Others spend their evenings in bomb shelters instead of at practice. Arenas in Severodonetsk, Druzhkivka, Donetsk, Kramatorsk, Mariupol, Kherson and Melitopol have been lost or destroyed. But the Ice Hockey Federation of Ukraine is determined to not let the war destroy hockey in their country. They've continued to play with six teams in a national championship.

Most Ukrainian men aged 18 to 60 are not currently allowed to leave Ukraine without special permission, so the tour provides them a rare opportunity to focus on hockey without the constant danger of attack. Assembling and preparing a team for international competition amid a war has proven very difficult, but the Ice Hockey Federation of Ukraine wants to send a statement to the world that the country is persevering and strong.

After the training and practice games in Canada, the Ukrainian national team will participate in the Winter University Games in Lake Placid, New York from January 11-23.