Wu-Tang Clan and Nas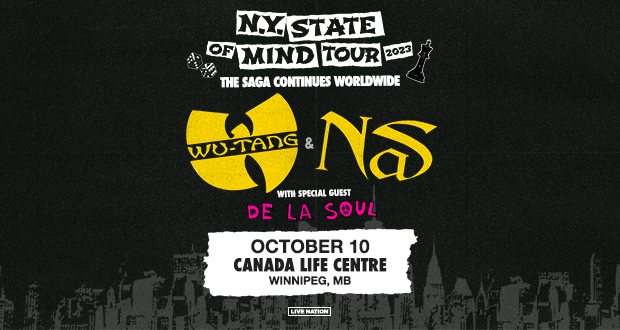 Hip Hop icons Wu-Tang Clan and Nas have announced the 2023 co-headline run of their N.Y. State of Mind Tour, which will be hitting multiple continents this year.

Wu-Tang Clan on Tour
Considered by many to be the greatest hip-hop group of all time, Wu-Tang Clan have been touring as a unit since their debut record — Enter the Wu-Tang (36 Chambers) — came out in 1993. The now triple-platinum release vaulted the New York City group with songs like "C.R.E.A.M." (Cash Rules Everything Around Me) and "Protect Ya Neck" that are about as recognizable as anything in the rap canon.

Their live sets are a family affair, with every member of the crew representing their lyrical contributions to the Wu's eight studio albums, as well as notable cuts from the Wu-Tang solo discography. With the omnipresent Wu-Tang "W" flanking all angles of the stage, there's a familiarity to Wu-Tang Clan's music that gives their shows unique mass appeal.

About Nas

Nas (Nasir Jones) first reached an international audience when his track "Halftime" was tapped by producer MC Serch as the opening cut on 1992's Zebrahead movie soundtrack.  Signed to Columbia Records, the first full-length album by poet and rhyme-master Nas arrived in 1994, Illmatic.

In August 2020, Nas released King's Disease. The album won "Best Rap Album" at the 2021 GRAMMYs, marking Nas' first ever GRAMMY win.

In August of 2021, Nas released King's Disease II, a sequel to the GRAMMY Award winning album. King's Disease II was executive produced by Nas and Hit-Boy and features collaborations with Eminem, EPMD, A Boogie Wit Da Hoodie, YG, Ms. Lauryn Hill, Hit-Boy & more. The album earned a nomination for "Best Rap Album" at the upcoming 64th GRAMMY Awards. Most recently, Nas released a surprise album titled Magic featuring A$AP Rocky and DJ Premier.